At Nova Pioneer we encourage  our students to explore their talents by providing them an opportunity to participate in co-curricular activities.
Students are allowed to choose an activity based on their interests.
On Saturday 5th Feb we ferried 13 teams to participate in the Makini Soccer Tournament.
We recorded very promising results as explained below.
Under 7 Years team
All the under 7 team made it to the quarter finals after playing a series of matches.
Under 9 Years team
All under 9 reached the quarter final stages as well.
Under 11 Years Team
Our under 11 team made it to the finals after making it to position 2. We are extremely proud of them for exhibiting high expectations.
Under 13 Years team.
Our under 13 team progressed up to the semi finals.
All participants received their certificates of participation.
All the 11 players who made it to the finals received their Silver medals.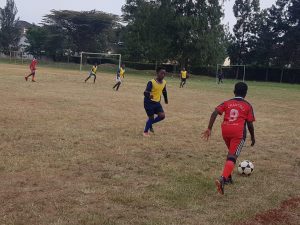 Under 13 Team at the soccer tournament
Click here for more information on the clubs.