Our Nova Pioneer Schools in Kenya recently celebrated the Class of 2020 for the exemplary results achieved on their KCSE exams and we do not doubt that the students are ready to take over the world. 
From Surviving to Thriving
In 2020, education across the world was abruptly derailed by COVID-19 at every level. In many countries, schools struggled to address the safety of children while also helping them continue to learn and grow. Without a doubt, Nova Pioneer secondary students, in particular,  demonstrated a high level of commitment during the last year, despite the unprecedented disruption and uncertainty presented by the challenges brought about by the pandemic.
The Nova Pioneer Class of 2020 overcame many challenges to post good results and rose above the challenges that came their way. We are encouraged by their performance.
We are extremely grateful to the teaching and support teams who have drawn on their extensive teaching and coaching experience to support all students through this immensely difficult time. The resilience shown by our Nova Pioneer Tatu Boys and Girls Secondary teachers and students is a true demonstration of how we live out our culture principles of High Expectations and Always Growing.
Meeting and Exceeding High Expectations
The Nova Pioneer graduates of both the Boys and Girls schools achieved remarkable success.  Our 231 graduates achieved a mean grade of 8.02 (a B-), with both schools achieving that B- average.  77% of the Class of 2020 earned a C+ or higher.  In addition, the Class of 2020 included our first two 'A plain' average achievers (one per school), a feat accomplished by less than 0.2% of candidates nationally. 
A particular shout out goes to the women of Tatu Girls Secondary Class of 2020 for setting a strong standard as the school's founding and graduating class.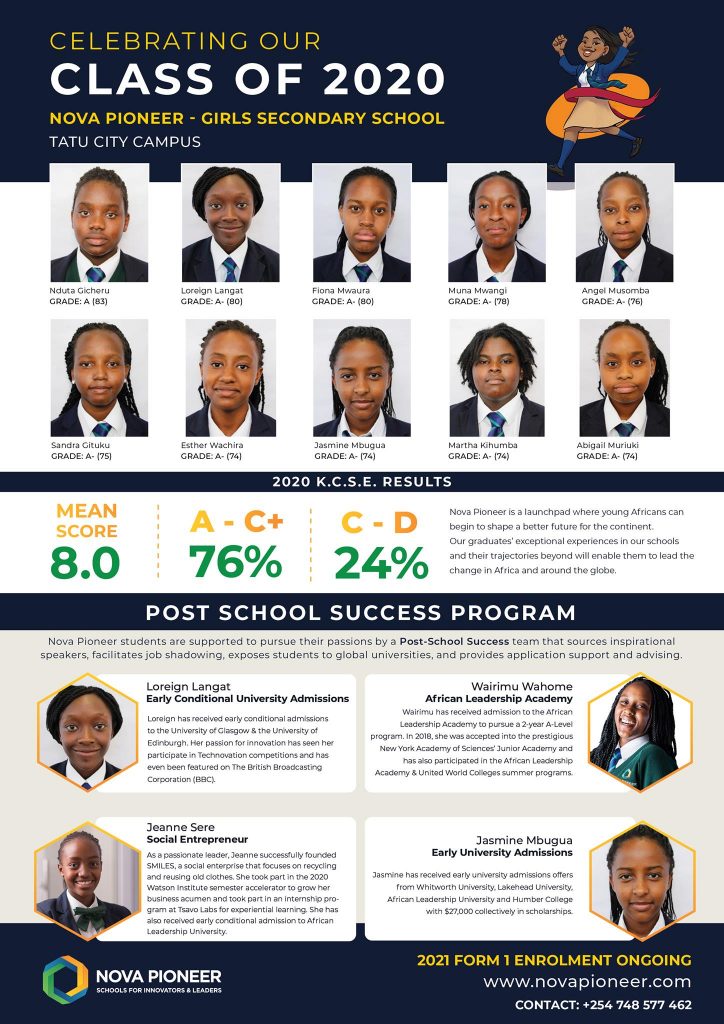 Where to from here?
Our Post School Success team will continue to engage with the Class of 2020 to ensure that every Nova Pioneer student will be ready to pursue their passion through the best post school fit and are ready to take over in their industry of choice.  Already, across the Tatu Boys and Tatu Girls graduating classes of 2020, 
7 students  have applied to the African Leadership University, and all have been offered a preliminary admission, pending submission of their KCSE results. 
97 students have been admitted to Strathmore University. 
2 students have been admitted to York University in Toronto, Canada one of them receiving a CAD 40,000 in scholarship from the faculty of liberal arts.
One student has been admitted to 3 colleges in the US, with scholarships, and will join Clark University where she received an annual $16,000 scholarship.
Two students have  applied to UWC (United World Colleges) and been admitted with scholarships.
One student has  applied to the African Leadership Academy and has been accepted with a $5,000 scholarship. 
13 students have participated in the Concourse Global clearing process. 10 students have collectively received a total of 46 admission offers with $272,650 in scholarships.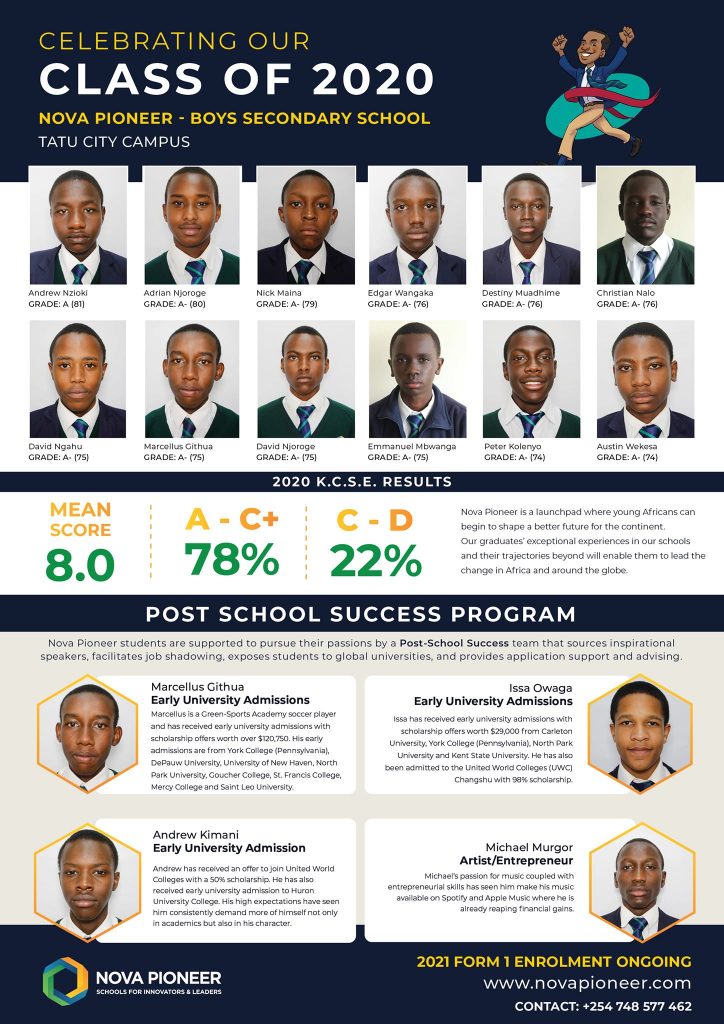 This Is Not the End Of The Journey
Too many schools see their job as developing "smart kids" and focus narrowly on building a student's knowledge base and academic skills. While that is critically important, Nova Pioneer holds itself accountable to a more holistic "Vision of a Novaneer": we want to deeply develop our students' character, capabilities and connection.  We define our success based on a larger set of longer-term goals; we expect our students to excel in exams and attend great universities, build innovations and art, launch new companies, and impact their communities. Ultimately, we want our students to become shapers of a world they envision rather than takers of the world they inherit. 
The Future Is In Good Hands
Today, we are again reminded that the mission and vision set out together to achieve as Novaneers, will be felt throughout Africa, and indeed the world, through the impact that our alumni will have as they shape their future around their vision and get ready to take over the world.  We are very proud of all our students and wish them well as they transition into the next stage of their lives.