Above all, I must begin by saying Thank you. Not only have I been given the glorious honor of trauma, nausea and fear for the last few days and hours — as I prepared this address that has probably made me shed some weight—I have also been given, now as I squint at the words of my speech and take deep breaths, the privilege to address the World's Largest and greatest pool of creatives, academics, playmakers, innovators and leaders ever to have existed in this universe—give yourselves a round of applause!
I have wracked my mind and run through all the tiny layers of my core as I sought out to find the right words that I ought to say to you today. I have since come to the conclusion that I might probably lose all of you to a trance as you reminisce about the great times that we shared and your moments together as graduates. Though if there is anything you should take away are these two words Desirable Difficulty.
On January 17th 2016 most, if not all of you took a risk, a ginormous risk. A risk to join the fairly new, unknown, unreputed Nova Academies. I like many of you had other agendas and goals to join the prominent schools that had often made history and that were well acquainted with 'success' as well as notable alumni.
Well, we all threw away that dream when we first put on our uniforms and reported to school that evening. Our school presented a vision that was easily sold to our parents but that may have readily made as sulk at the idea. Through the thunderclouds, a great opportunity to write our own legacies and break the shoulders of giants in a bid to stand on our own grounds was manifested.
That was the best choice and since then we have shaken the continent. In Form 1 with our very own 'Class Calc' or calculator Onesmus Muiru and Adrian Wanjau Being the best at our first ever 'academic funkie' The National Math Contest, followed by another great triumph that saw the Chemistry team in Form 3 lift the position three trophy at the National Chemistry Contest both events held at the Alliance Girls Highschool.
These achievements were just the beginning of our takeover. We absorbed 8-4-4 with a twist and saw our academic journeys take a leap, with highlights such as Bust-A-Nerve, Stag chat—by our very own now in your Android Play Store.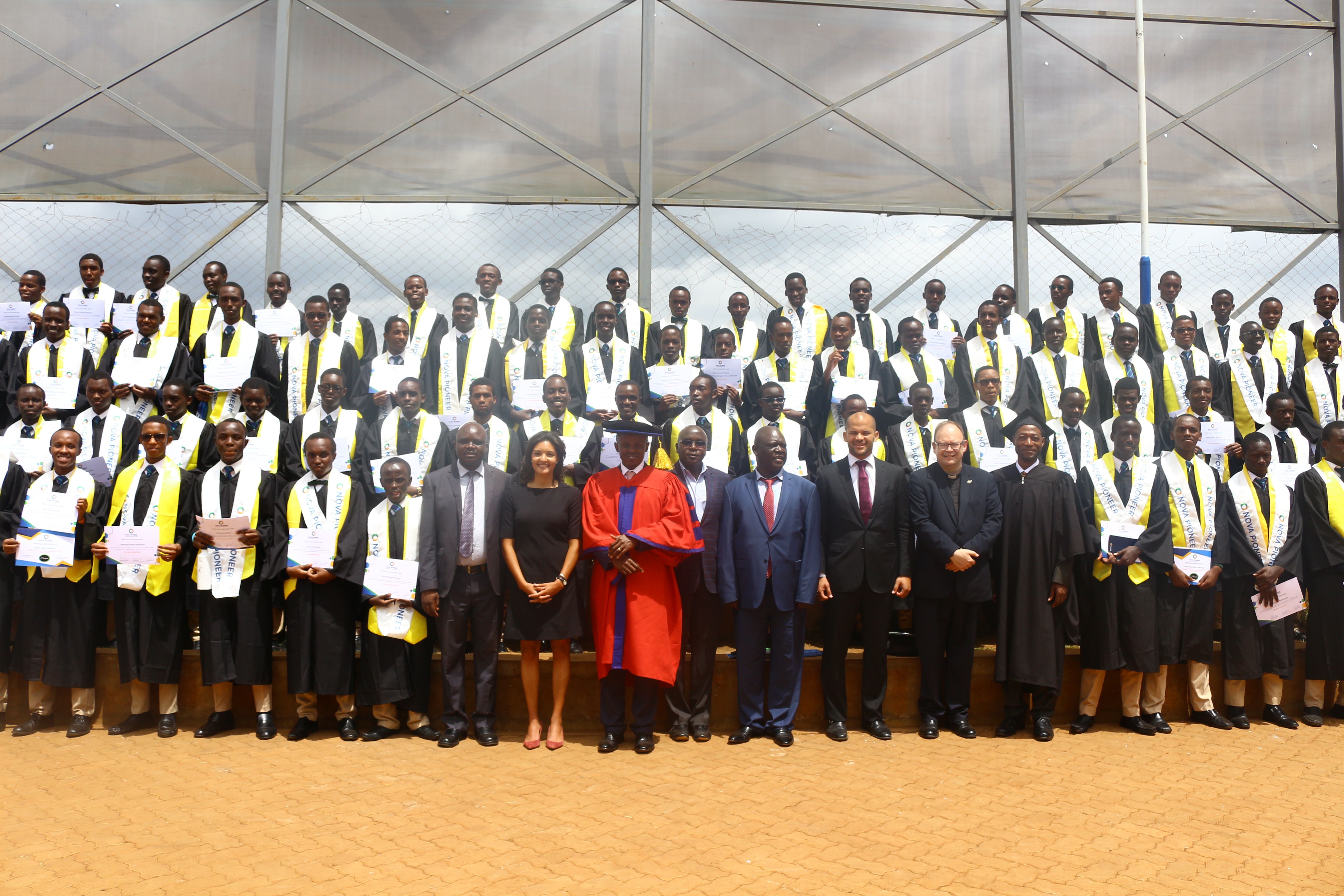 Outside the classroom we were on another level. We had a story to tell.
The pitch was small, dusty unlevel, with little to no grass and to make matters worse we had the sacred cursed palm tree that saw most if not all our balls burst and even to this day I believe the ball Jason kicked is still at the top of the tree.
I remember the pains so vividly, we played basketball in the upper Dining hall, with only one post, the populations in soccer and rugby then saw many of us struggle for places in the school team. Surely after this we were set to conquer the world. I mean what can go wrong? /short pause/ Now ask your neighbor What Happened?!
Despite the persistence and determination. We were scared, we were not ready for the center stage. We lost dozens of times—the 6-0 defeat against Alliance in soccer, the rugby team getting destroyed time and time again and not forgetting swimming. Wow, imagine participating in swimming competitions with no swimming pool to train in.
Through the losses and difficulties experienced, we saw members of staff such as Mr. Wachira and Mr. Abucheri together with Coaches John and Kioko transform our 'cerelac' bodies into celestial championship beings with a thirst for victory. Today the hope is to see the likes of Calvince Kaunda and Andrew Jones swim for the Kenya Team, to see our very own at the NBA playoffs and even Dao and the pros battling it out in Homeboys, Sharks or even KCB. We dream of more plays at the Liverpool stadium and more signings to clubs all over the world. We can do it!
Above all the greatest takeaways are from the hearts that have been formed through the flames of difficulty and failure. That have shown us that we can grow that we can shine! 
This Class holds rappers, like Nigel and Alufwani, businessmen like Lonny  Irungu and Jeremy Muchina, Artists like Jameel Issa, Adrian Nderitu and Joseph Chege, who brought us the Agachi and Project N series of comics, Innovators and Inventors like Phillip Mburu and his team, Scientists like Blaise Nyange, Kimani Kamau and remarkable leaders like Branson Limo, Kuria Kasumba, Wahome Munyeria and the likes not forgetting Killian Rono, Naphtalie and even Arthur Kanai.
This class has all it takes to build the world.
We owe it to the almighty for giving us hearts of stone that have enabled us to endure difficulties in our journeys. We owe it to our extremely supportive and encouraging teachers that have prepared us well to face KCSE. We owe it to Jacob and his team, Christine and Sunford's team in the Kitchen and Bwana Parmuya and Jacob in the dormitory for making school worth living and enjoying.
Let us now recognize that despite the difficulties coming to an end here in school, we now ought to search and hope for tougher choices to make, harder fights to win, more risks, more failures, and more chances and opportunities to prove ourselves fit for the job. Let us take the big risks, that they may scare us but that may allow us to break the limits that hold us. Because just like the phoenix we must burn to emerge.
May we embrace the friendships we have built over the years with our classmates, teachers, sub-ordinate staff and even our parents. We should be grateful. Let us take moments to recall highlights such as the bushes of Ondiri or the flight of stairs we had to climb every night with Mr. Ongera. Let us remember the Nova Tatu finals in Term 3 form 2, the devastating clearance, club boom. Mixed Church, the first time we did full papers. The opening of the swimming pool, IG's Concert, KTN's kubash on live TV, World Cup and Afcon and The great Sagana.
We have shaped this school Class of 2019 and are leaving behind a remarkable legacy. 
We must now recognize that it is difficulty and failure that give us a proper perspective on success—and that in order to enjoy the fruits, we must Stay Hungry. Stay Foolish!
Long live the Pioneers! 
Congratulations Class of 2019.
Speech delivered by Ryan Napo (Former student at Nova Pioneer Boys' Secondary ) during the graduation ceremony in August 2019.