Due  to the increasing cases of fires in Kenyan high schools, the National St. John's Ambulance Office decided to focus on Fire Safety as part of the training curriculum this term. Cadets went through a training that included classification of fires, how to combat them, how to use fire extinguishers and hose reels, how to calm and evacuate casualties, First Aid and calling for ambulance services.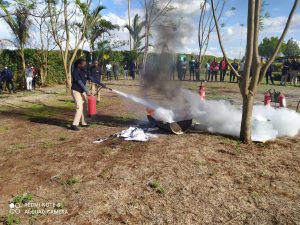 Fires Safety Training at Tatu Girls
This culminated in a symposium at Othaya Girls High School where schools from the larger Mt. Kenya Region gathered. The Cadets were tested on what they learnt during the training and had to take a theory paper, a practical session and do a presentation that showed their Fire Safety skills.      
Our Cadets outdid themselves and were the overall winners in the Mt. Kenya region. This was a great achievement since our senior cadets in form four were not part of the event as they were preparing for the KCSE Mock Examinations.
Our form one cadets did extremely well in the theory paper with Jeanette Kaari and Faith Mwende taking the first position while Maya Adhiambo (Form 1) and Ladona Ochar (Form 2) tied in second position. Our Cadets will represent the Mt Kenya Region in the National Fire Safety Symposium in March next year in Mombasa.