Life is an unpredictable journey, often leading us on unexpected paths that shape our futures in profound ways. In this series of alumni spotlight, let us turn our attention to Shakira Mwakitawa, a remarkable alumnus of our Tatu City Girls School, class of 2020. She is currently a Civil Engineering major sophomore at the University of St. Thomas.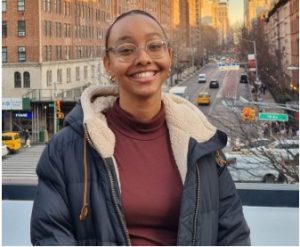 Career Pathway
What began as a traditional academic pursuit took a turn into unchartered territories ultimately redefining Shakira's professional trajectory.  In High School, Shakira was a Gold Key student. We were very inspired by her artistic expression in painting. In fact, in 2021 she ran a business called Sunnysideupke, an online art business that supported her friend and Novaneer classmate Jeanne Sere to donate sanitary pads to a centre in Kibera.
After pursuing her high school education, she applied for the alumni internship program at Nova Pioneer where she joined the Marketing team as the Content Creation Intern. Curating content for the Nova Pioneer Kenya social media handles was a project that she enjoyed doing. Her dedication, innate flair for innovation, and creative ideas contributed to her success in that role.  She held this position for close to a year before joining University. This experience bolstered her portfolio and enabled her to continue engaging in the social media space as a student assistant at the University of St. Thomas.
When she joined the university, she enrolled in an environmental studies course but switched to Civil Engineering due to an interest in urban planning and landscape architecture. With each lecture, project, and discussion Shakira has expressed that she finds herself increasingly drawn to the world of Civil Engineering, its challenges, and possibilities igniting a new fire within.
Personal Scoop
During her free time, Shakira enjoys watching  Netflix and reading African literature. She enjoyed reading  "Havoc of Choice," authored by Wanjiru Koinange. A book that she highly recommends for all who find reading engaging. 
The Nova Pioneer effect
Shakira felt prepared for the professional and university environment because of the Nova Pioneer culture that challenged her to set high expectations, grow from every challenge, and defined her as a Novaneer. She learned to structure her time when she was in High School. She expressed that she had support from her teachers notably Mr. Godfrey Otaka and Ms. Margaret, that helped her in her journey from being shy and reserved in opinion to being confident and outgoing in nature.
If you want to find out more about how we prepare our Novaneers to create their future, take a moment to click here and get scheduled for one of our Campus Experiences.