It is exactly four months to the day since the first case of COVID-19 was announced in Kenya. Within 48 hours, the Government had announced the closure of all schools – post haste. Many employers also required staff to work remotely, so there we were, all suddenly thrown into the deep end of a new normal. It was initially unsettling, but we quickly fell into a routine with the help of a brilliantly simple schedule from a friend on Facebook.
Since March 13, the last time David (10 years) and Jonathan (7 years) were in school, they have grown in leaps and bounds into big little men whom I often hardly recognize. They mastered the new schedule quickly, which helped them to complete all the exercises in the virtual learning packs prepared by the school by mid-April. 
Since then, they've maximized the prolonged period at home to learn new skills – most notably in the kitchen, which is very apt given that they're trying to eat me out of house and home!😄 I am so impressed with how they are making themselves useful with chores and anything that needs doing in the house. It seems their favourite words nowadays are, "Mum, do you need help with anything?" And, "Esther (our exceedingly gifted housekeeper), what can I help you do?"
Identifying Their Unique Strengths & Gifts
I'm finding that taking a few minutes whenever possible to teach them something new or do something together, however seemingly mundane, is helping us to know each other even better and giving the boys confidence in their unique strengths and gifts. 
Speaking of gifts, is there anything sweeter than enjoying grilled sweet and sour chicken wings or roast rosemary potatoes made from scratch made by your fast-growing little ones? I could hardly believe how confidently they peeled, washed, halved, parboiled, and seasoned the potatoes after just one trial run with Esther! 
They've also learnt how to cook chapatis – all the way from making the dough to rolling and frying. And how to make mandazis using a recipe from their cookery club at school. Thursday was one of their favourite days in school because they had cookery club. I don't know how to cook chapati or mandazi, but hopefully they'll teach me soon! They also cook some really good cinnamon French toast. As expertly taught by yours truly 😄.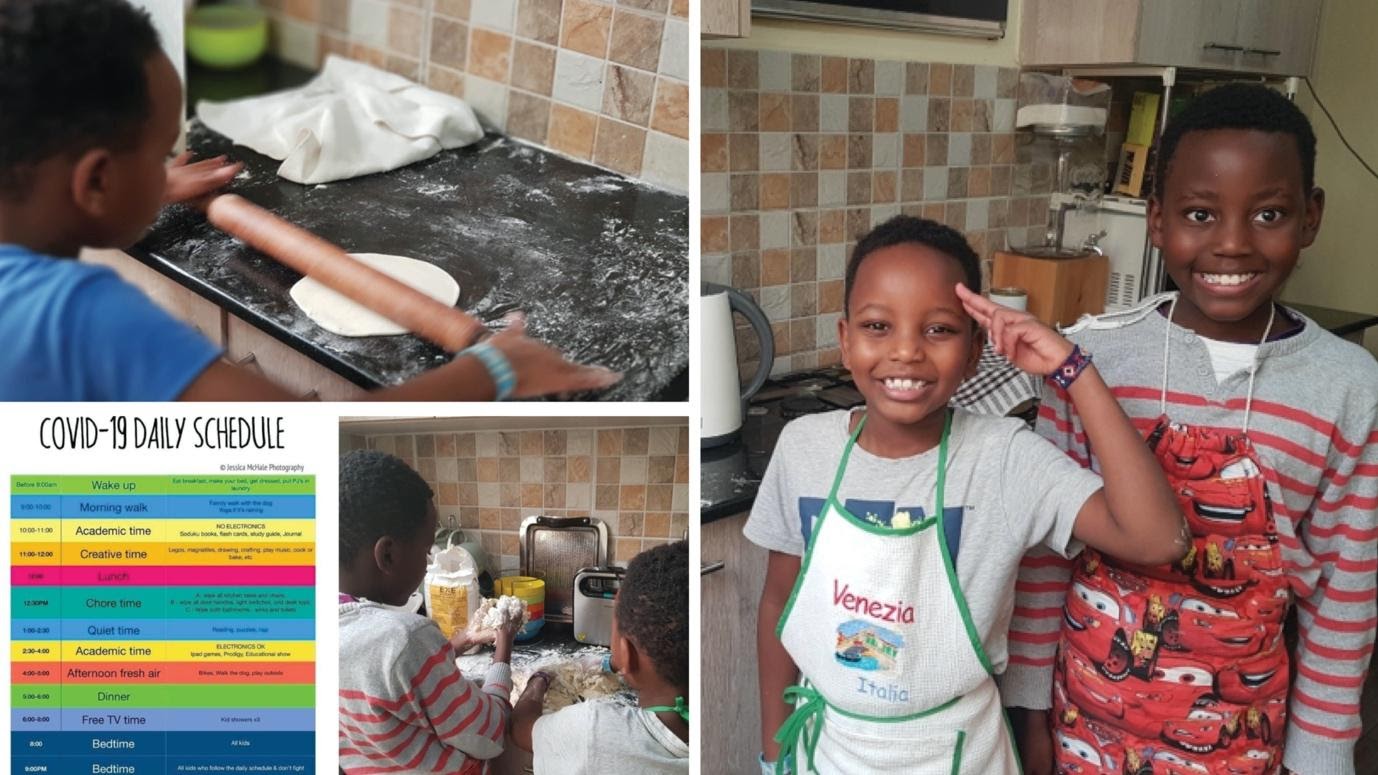 Meanwhile, the mandazis come in all shapes and sizes 😄. Mine are usually heart-shaped ❤. They serve them with spicy tea for me to enjoy while I'm in an online meeting. And my share of the mandazis is labelled and stowed away safely in the fridge, away from ever-peckish boys! 😂
Between them and Esther, they've also taught themselves how to make really tasty bhajias – something we've never cooked at home before. Now to learn how to make lasagna. I think that just might win me Mum of the Year in their world!😂. For desserts, they've taken making ice lollies to a whole new level. David's innovation – freezing a lolly made with Ribena and then piercing it in the middle to infuse orange juice to make a two-in-one lolly! Simply brilliant!
Taking Initiative..
Household chores are quickly becoming a breeze for the boys. They're in the habit of making their beds, airing their rooms and tidying up their shelves when they notice they're getting disorganised. What impresses me most is that they take the initiative themselves, especially on weekends, and then report with pride on their accomplishments.
Like when David manages to change the cover on his duvet, a tiresome task even for adults, or Jonathan volunteers to make all the beds on a Sunday! Never mind that he has turned his car bed into a notice board 😄. It's so humbling to wake up to neatly made children's beds on a weekend with an offer at the ready, "Mum can we make your bed for you?"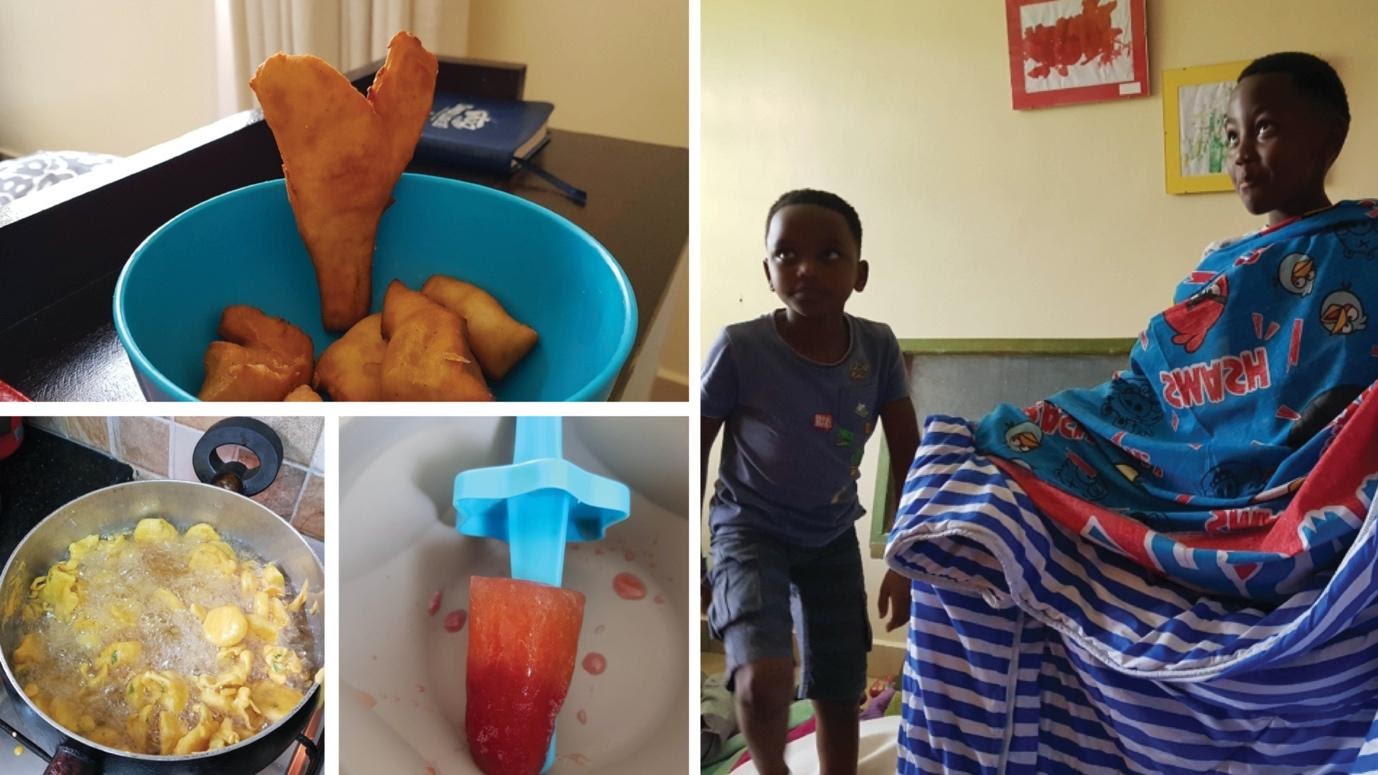 Boys will be boys 
Boys will be boys, so many times I find them on the roof of the car, relaxing in shorts and vests and with pillows for maximum comfort, reading, completing activity books, or just chatting (gratefully, they're best of friends). Then the looks on their faces when I get them to wipe down the car of their grimy prints once they're done – priceless 🤣! The important lesson in this "class" is that when you spend half the week hanging out on the roof of mummy's car, you spend Saturday morning wiping your dusty little foot and finger prints off said car 😂.
Getting Creative
Their crafts creativity is also really growing. On Mother's Day, they not only surprised me with a breakfast tray in bed, but with such thoughtful handmade gifts. David, with a mini-robot made from a cardboard box, toilet rolls, a party mask and ribbon, and Jonathan with a paper megaphone painted a sunny yellow that I can use to yell their names if I need anything. I was under strict instructions not to lift a finger that day. Their gifts have pride of place on my bedroom wall .
Thanks to Esther, they've also learnt how to make simple stitches and sew buttons. They practice on recyclable woven bags. 
Then there's the week they were feeling particularly patriotic and decided to surprise me with a mini-flag of Kenya in our backyard made from old broom sticks and a bandanna. I was blindfolded for my introduction to the new invention 😂. It was such a refreshing and heartwarming sight, the lovingly made flag blowing obediently in the wind. Esther helped them rig it up in a way that they can pull it up and down, just like a real flag.
Don't ask me how but there's some cool tech there! I had "caught" them from my bedroom window, hard at work digging and "building" the flag, but I had no idea what they were making and they told me not to ask. The team work involved though was at expert level.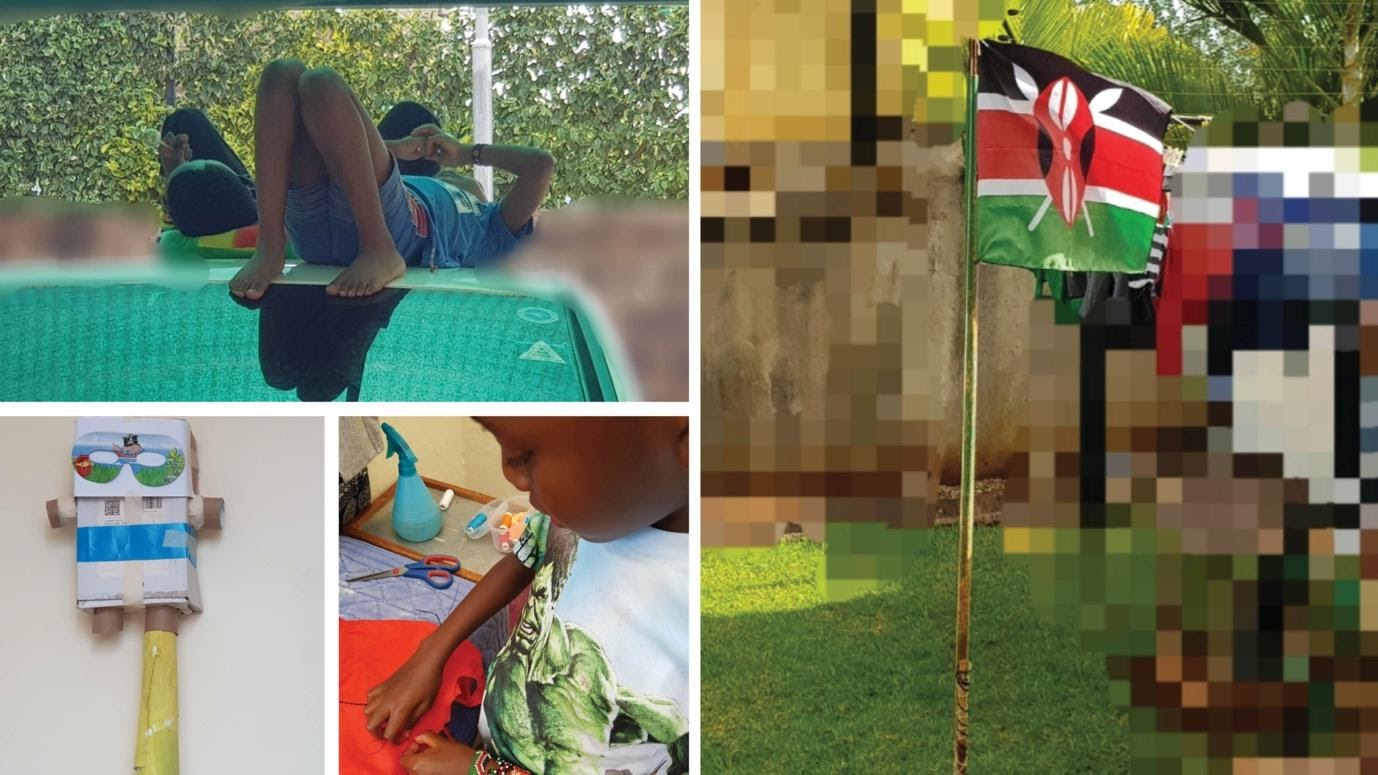 Taking Charge
One of the greatest reliefs is how they've learnt to take full charge of feeding, bathing and walking their furry "sister" and best friend – Ms. Fluffy Whiskers. Yes, she has a pony tail 😂. This was after an afternoon of serious grooming although we got experts for that. Right now, the boys' elaborate plans for a "camping" movie night for her birthday are in high gear. She turns one next Saturday😄. Their excitement is palpable. They've even got the popcorn seeds lined up, ready to pop! 
Boosting their love for reading
Let me take credit for stocking up the kids' bookshelves to keep their fiction reading up and introducing them to audio books. The looks on their faces when they received a new shipment of books – after they had read literally all their story books – was so rewarding.
Discovering audio books (and the use of headphones ) has also been a treasure. They've dived into this exciting new virtual space with gusto – David loves sci-fi and devoured Interview with the Robot by Lee Bacon and Diary of a 6th Grade Ninja by Marcus Emerson in a couple of days. Jonathan seems to enjoy the classics. He persevered with all 18 chapters of Anne of Green Gables – 9 hours and 22 minutes of audio book – for about a month, and at his insistence! He is now reading the audio version of Alice in Wonderland. I know – audio books may not be the obvious choice for young readers, but I am banking on this experience boosting their comprehension, storytelling, and hopefully vocabulary skills as they complement with hard copy books for spelling. 
Teachable moments
Some of my favourite mummy-teaching-boys moments have been unexpected. Like making up and playing a game we decided to call "find the country on the globe" on a random Sunday morning when I hadn't even gotten out of bed yet. It was so funny showing David how to climb into the house through a window. He then taught Jonathan. These are very important skills that must be passed down between generations!😄
It was so fulfilling to teach Jonathan how to put a nail in a wall and hang up a picture. He had found a canvas painting of an octopus that he had made last Christmas and a sisal artwork that needed to be put up or perish when he was tidying up his reading space. He was so proud of himself when he put them up, and rightly so!👏🏻
Family time
We've caught some really good movies on the random weekday family movie afternoons I like to organise. Some favourites have been A Dog's Purpose, timeless flicks like Free Willy, and animations inspired by real life events like the 2018 animation – Sgt Stubby: an American Hero, which tells the story of a World War I soldier's dog. I've also introduced "sleepover nights" where we carry the boys' mattresses and beddings into my room for the night and have a slumber "party". They love it! 🤗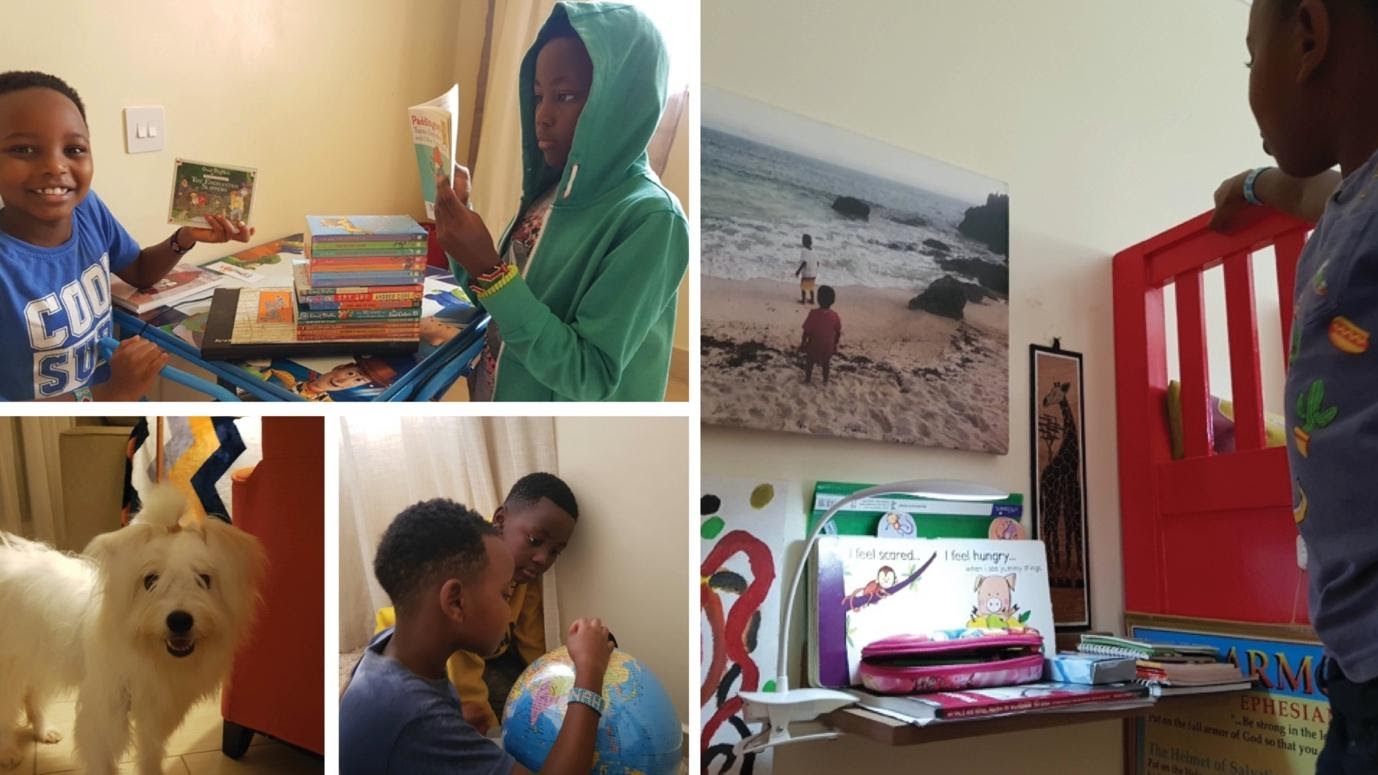 I've noticed that as we get more accustomed to staying indoors, it's sometimes a struggle for the boys to get out and play as they sometimes prefer to continue reading indoors or even helping with chores. But they eventually go outside with a little encouragement (read thinly veiled threats😄).
They're good cyclists and during this time, they've increased their stamina so they can do longer distances without struggling. Best part of this – David taught me how to ride a bike! 🙌🏻 You know one of those things you've always assumed you knew how to do? Until you tried to and realised you've never actually done it? Cycling was one of those things for me!
David was so inspirational about teaching me too, saying, "Mum, you can do it", when I was unsteadily approaching a bump. No picture for the learner bike rides yet unfortunately. Chief Documentarist aka Mum was busy learning how to not fall off the bike!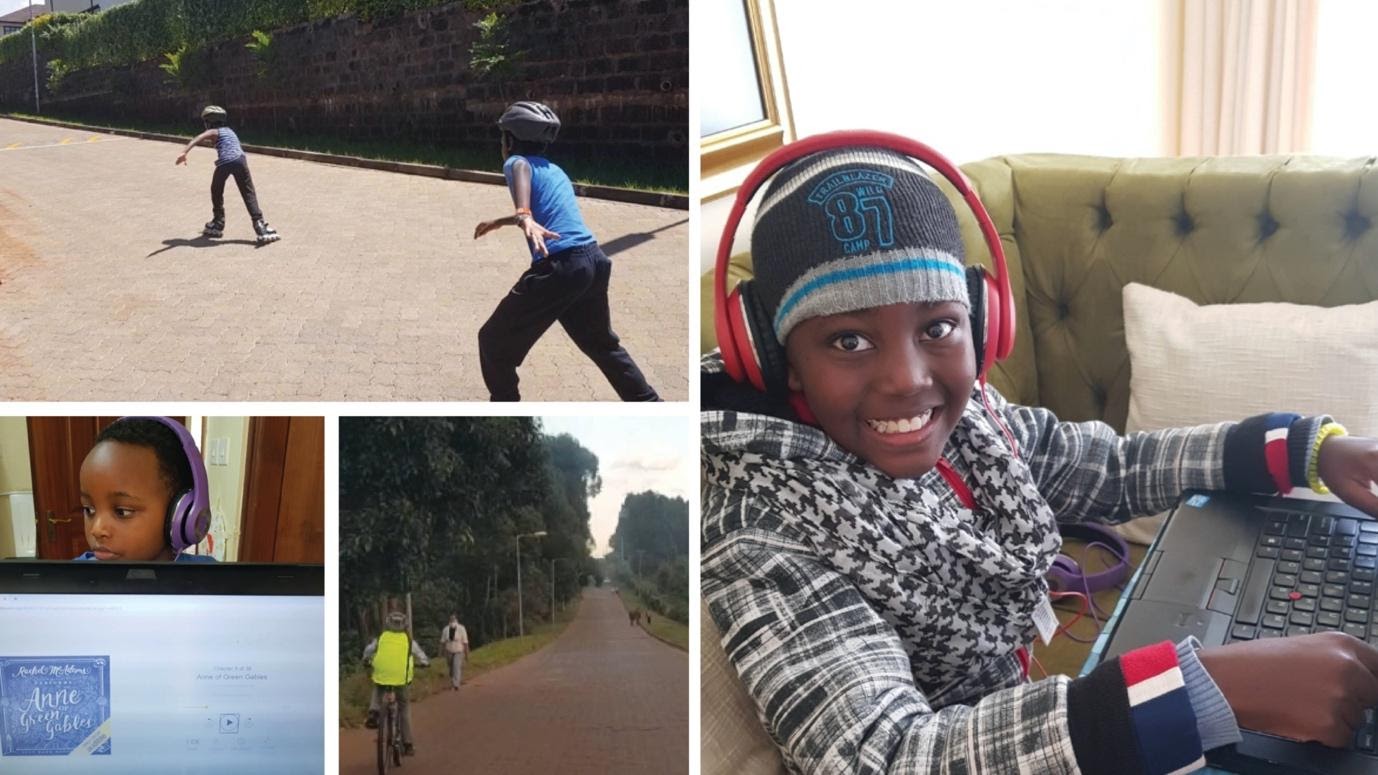 The boys have taken advantage of this time to perfect their roller skating. David took the first plunge and helped Jonathan catch up without too many bumps and bruises too! Thankfully, all teeth are accounted for! 😄 Jonathan has also perfected doing press ups – he's turning out to be a real fitness buff and is now dutifully waiting for his biceps and abs to show up after all his efforts! I have no doubt they will – muscles are beginning to ripple 😄!
Today, I finally summoned the words and courage to tell the boys that school is out for another nearly six months. And that they will still be in their current grades when schools reopen in January 2021. As expected, they were disappointed. But they understand why it's necessary.
So, we continue to #stayhome #staysafe and #sanitise. Meanwhile, we're determined to continue making the most of this unusual time, a rare opportunity. So help us God. 🙏🏻
Written by: Wakiuru Maina, (current parent at our Nova Pioneer Primary, Tatu City Campus)