On Sunday 12th December 2021, a group of 37 girls and 3 teachers from our Tatu Girls Campus traveled to Dubai, UAE for World Scholars Cup, Global Competition 2020 Edition. The World Scholars Cup competition was founded in 2006 with the aim to attract students interested in learning beyond the typical school curriculum. Students from different cultures come together to discuss issues and ideas relevant to today. 
The students qualified for the global competition after successfully competing in the Regional Round at Light International Academy in February 2020.
The students had an opportunity to compete with other students from over 15 countries in Team Debates, Collaborative Writing, Creative Writing, Scholars Bowl and Scavenger hunt. The main theme of the competition, A World Renewed, is broken down into thematic areas including: Science, Creative Arts, History, Arts and Music. Out of the 13 teams we presented, 11 qualified for the Tournament of Champions, usually hosted at Yale University, USA. 
The girls were awarded a total of 55 silver medals and 11 gold medals for their outstanding performance. Ivy Wanja Mwaura , from our Tatu Girls Campus  was recognized as the top scholar from the institution for her outstanding performance in writing and debate.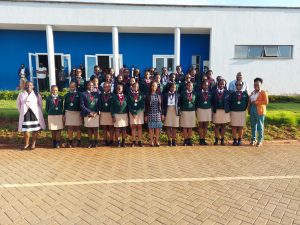 Above, Tatu Girls Students During the World Scholars Cup Competition.
The Nova Pioneer Community is extremely proud of our students for High expectations.
Click here for a virtual Tour of our Tatu Campus.