International Women's Day is celebrated each year on March 8th to recognize the social, economic , cultural and political achievements of women. The theme for this year's International Women's Day is "Gender Equality today for a sustainable tomorrow." 
At Nova Pioneer, we are empowering our young women to bravely take up opportunities.  We equip them with 21st Century skills that prepare them for the future.  In them we see a generation of great Leaders who will shape the African century.
This Year as we celebrate the International Women's Day, we are celebrating these brave young women within the Nova Pioneer community.
Our Brave Young Women
We are Proud of Avery Muoki a Grade 5  student at our Athi River Campus who published her first book titled Amber The brave. At 10 years old Avery has already discovered her prowess in writing. She is passionate about the environment. Her book is about a young girl determined to save her village from air pollution caused by toxic fumes from a steel factory. 
We are  proud of Jeanne Sere an alumni of our Tatu Girls Campus who is the founder of tabasamu.ke a company she started while at Nova Pioneer in 2018. She grew from collecting several kilograms of bags with clothes donated by Novaneers to selling re-cycled Ankara waste from local tailors. She uses 20% of her profits to give back to the community.
We are  Proud of Shakira Mwakitawa an Alumni of our Tatu Girls Campus who joined the Nova Pioneer Marketing team as an intern. she has continued to embody the Nova Pioneer culture principles and bravely offers support to the team. 
We are proud of Apetronila Maina, Maya Hawi, Shanice Kituu and Tatyana Murila Students at our Tatu Girls Campus who emerged position 1 in this Years Junior Achievers Company of The Year Competition. Their project "Yoof" aims at  promoting mental health among young people by creating a safe space to express themselves.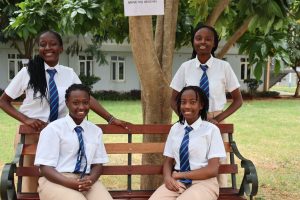 Above, Apetronila, Maya, Shanice and Tatyana
We are proud of Rehema Amor and Michelle Atika, Form 4 Students at Tatu Girls who took part in this Years National Youth Agri challenge. They emerged among the top 10 finalists in all schools across the country. Their project led to our school being identified as an Agricultural Centre and winning an Agric park worth Kshs.30000 to help Amor and Michelle begin the implementation of their project.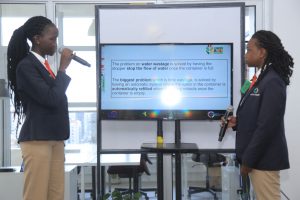 Above Rehema and Michelle giving their presentation
We are proud of Ivy Wanja Mwaura from Tatu Girls who emerged top in the the World Scholars Cup for her outstanding performance in writing and Debate.
We are proud of Getrude Muthoni from Tatu Girls Campus who presented an excellent Virtual tour of our country during the X-culture Business Competition. At the Competition, 15 girls from Tatu Girls gave a tremendous performance. The students will be proceeding to the global round later this year. 
We are proud of our Form 4 class who have been supporting each other, believing in themselves throughout the tight academic schedule and are currently focusing on their KCSE exams.
Join us on our next Virtual Open Day Session to learn more of the amazing stories.
Remember to celebrate yourself and the women in your life today by calling out gender inequality.