A team of  15  girls from Nova Pioneer Tatu Girls have been participating at the X-culture Business Competition.
X- Culture Business Competition is an educational project that aims at preparing students for global careers and effective performance in the multi-culture work place.
X-Culture Business Competition prepares students to real life problems in the business world and trains them how to come up with sustainable solutions to enhance international business.
The girls qualified to participate in the global round.  This involves working with group members from across the globe. They will be submitting their final proposal next week.
Their tremendous performance saw one of the girls, Getrude Muthoni , selected to present a virtual tour of Kenya to all participants. We applaud her and the entire team for flying the Nova Pioneer and Kenyan flag high. You can access a recording of her presentation via this link ; https://www.youtube.com/watch?v=qObdp1kNK1E&ab_channel=X-CultureEducation
At Nova Pioneer Tatu Girls, we commit to continuously expose our students to opportunities that enhance their leadership, communication,collaborative,innovative,creative and research skills throughout their high school lives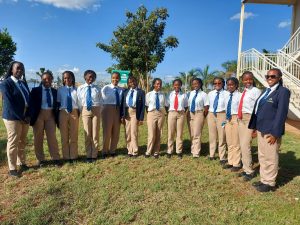 Participants at the X-culture Business Competition
Interested in becoming a Novaneer?  2022 enrollments at our campuses are ongoing.
Apply to Nova Pioneer today and save on your 2022 Tuition fee.