Nova Pioneer announced plans to launch not one, but two new secondary schools in 2023. Nova Pioneer North Secondary  (initially based at our Paulshof campus until we find a suitable, permanent location) will serve families in Johannesburg North. Our Nova Pioneer West Secondary Campus will be based at our North Riding campus for the first two years (thereafter moving to our Ruimsig campus) and serve Novaneers in Johannesburg West.  These new campuses will cater for Grade 8 students in 2023 and subsequently add grades. Nova Pioneer is a private school network that builds and operates world-class, affordable schools, offering students grades from preschool through to secondary.
Quality Education Made Accessible to More Families Co-founder and CEO of Nova Pioneer Chinezi Chijioke said the school group's expansion plans are guided by their mission to develop a generation of young innovators and leaders who will shape the world.
"Over the past five years, our Nova Pioneer Paulshof and North Riding primary schools campus has only catered to students from preschool to Grade 7. However, due to the remarkable success of the campus and growing demand for a secondary school, we will introduce secondary schools that will serve families in the areas as well as give Novaneers the opportunity to complete their schooling career at Nova Pioneer," he explained.
"Nova Pioneer seeks to provide consistent excellent 21st century schooling that prepares children to thrive and lead in life beyond school, and is financially accessible – we want to reach as many families as possible. We do this through a combination of the rigorously implemented Cambridge curriculum, a teaching approach that emphasises critical thinking and student voice, and our internally developed leadership, social-emotional wellness, and post-school success programmes."
Expansion Plans in Detail
The North Secondary school will initially be launched and incubated at the current Paulshof campus, and thereafter will move onto a separate campus that will serve families in the Sandton, Lonehill and Fourways areas. Our West Secondary School will initially be housed at our North Riding campus for the first two years and thereafter will move onto our Ruimsig campus ensuring it can suitably serve all students in the Randburg and Roodepoort areas. Nova Pioneer South Africa now has four secondary schools and we are currently enrolling for the following grades.
Nova Pioneer Ormonde: Grade 8 to A-Levels
Nova Pioneer Midrand: Grade 8 and 9
Nova Pioneer North (incubated at Paulshof): Grade 8
Nova Pioneer West (incubated at North Riding): Grade 8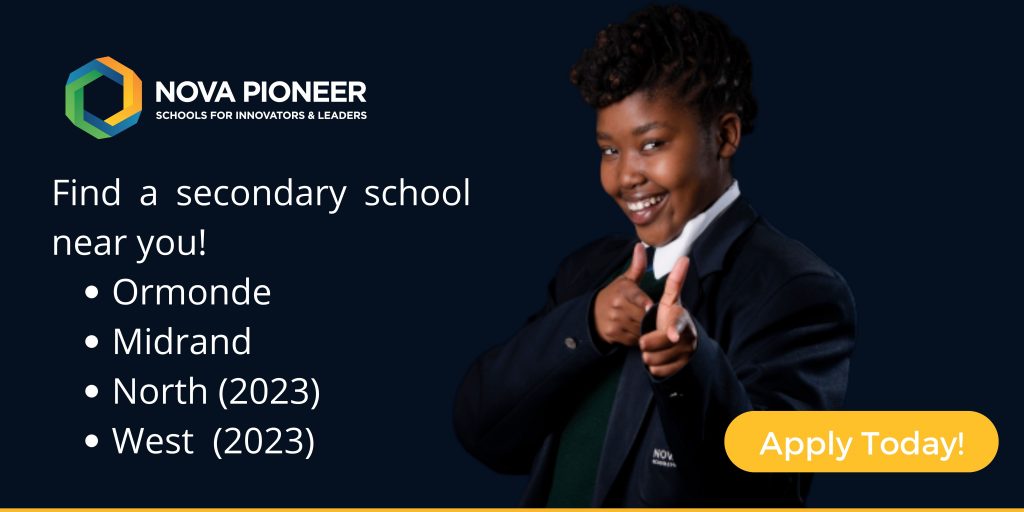 Excellent Cambridge Results
Chief Academic Officer, Rahel Wondwossen said the school group offers quality education grounded in the Cambridge standards, an internationally accredited curriculum that is both locally and globally recognised. Our Nova Pioneer Secondary schools offer grades up to, and including Grade 13, which is optional but a popular choice for many students based on their specific tertiary learning plans and, with time, Nova Pioneer North and Nova Pioneer West will offer all grades.
"Cambridge qualifications are internationally recognised, opening doors for Nova Pioneer students to universities in South Africa and worldwide. We are proud to be one of a few South African schools that offer the Cambridge Curriculum and are fully accredited with Cambridge International."
Nova Pioneer students can write their IGSCE, AS-Level and A-Level examinations. Earlier this year, the school group celebrated their Ormonde Secondary students' Cambridge A-Level results, with a 100% pass rate and exceeded the national subject pass average. The A-Level year is ostensibly the equivalent of Grade 13 at secondary school level and provides students a world-recognised exit qualification to widen the scope of their university studies both locally and internationally and, depending on how they performed in their IGCSE and AS levels, gives students the opportunity to improve their options of getting into their preferred course.
Post School Success Team
Nova Pioneer places high value on students' post-secondary school success. The school believes many elements can impact a student's ability to succeed after completing secondary school. "We want to ensure that students perform well academically and ensure that they feel supported and prepared to succeed beyond Nova Pioneer. We recognise that those paths will be as diverse as our students are, reflecting their passions and talents. To that effect, we have a Post-School Success (PSS) programme to provide all students with personalised guidance on exploring post-school options. Our PSS programme is a unique offering available to our senior secondary students," said Wondwossen.
Since its introduction in both South Africa and Kenya, Nova Pioneer's PSS programme has facilitated the admission of students into renowned universities both locally and abroad. Schools for Innovators and Leaders Nova Pioneer believes too many schools focus too narrowly on knowledge memorisation and content accumulation. While Nova Pioneer considers academic mastery and skills to be critically important, it also places focus on a more holistic set of skills aligned with its vision of developing high-character leaders and innovators.
"We focus on developing our students' character, problem-solving capabilities and interpersonal connection. We call these our '3Cs'. We expect our students to excel in exams and attend great universities, but ultimately our success will be measured by our graduates' lives. By the innovations they develop, companies they launch and lead, art they create, and impact they have on their communities," said Chijioke.
"Ultimately, we want our students to become shapers of a world they envision, rather than takers of the world they inherit. We are very proud of all our students and wish them well as they transition into the next secondary learning stage of their lives. We look forward to having our students complete their entire schooling career (Grade 000 to Grade 13) at Nova Pioneer and openly welcome students from other schools too."